Our Ingredients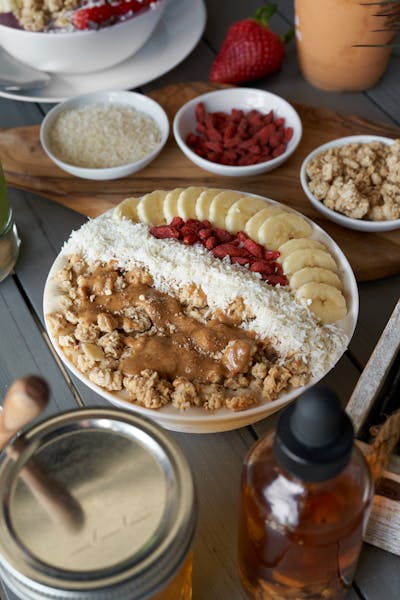 Earthbar is Earth-sourced. We always use best-in-class ingredients that are high quality, certified organic, safe, pure, raw, and plant originated. We take special pride in knowing that the formulations we are using are backed by science for being nourishment you can trust with long-lasting healthy benefits. Every body's needs are unique - there's no "one size fits all" approach when it comes to nutrition. See below for more information on our functional ingredients:
BOOST
Boost ingredients are ideal for pre-workout. They provide fuel for the body, accelerate muscle building, reduce inflammation, and replace electrolytes.
Ingredients to look for:
- Coconut (meat, milk, water, or oil)
- Spirulina
- Maca
RECOVERY
Recovery ingredients provide fuel for the body, accelerate muscle growth, replace electrolytes, and reduce inflammation.
Ingredients to look for:
- Proteins (Chicken, Turkey, Egg, or Fish)
- Chickpea
- Kale
BEAUTY
Beauty ingredients provide increased elasticity and skin lubrication, essential oils, and nutrients for hair, skin, and nails. They also help with collagen production and anti-aging benefits.
Ingredients to look for:
- Buckhorn Oil
- Tofu, tempeh, edamame, and miso
- Oils (avocado, pumpkin seed, olive, coconut)
- Salmon
- Camu-Camu, Citrus Fruit, High Vitamin C
- Nuts (cashew, almond, walnut, pistachio, hazelnut)
DETOX
Detox ingredients are good for longevity and remove toxins from the body, cleanse the blood, and improve the function of the liver and kidneys.
Ingredients to look for:
- Cilantro/Parsley/Herbs
- Beets
- Turmeric
- Lemon
IMMUNITY
Immunity ingredients are good for increased resistance. They also kill bacteria, boost white blood cells, prevent cell oxidation, and provide antioxidants.
Ingredients to look for:
- Mushrooms
- Fermented Foods (tempeh, kefir, sauerkraut, miso)
- Turmeric
- Camu Camu/Moringa/Citrus (Vitamins Cs)
- Garlic
- Chlorella
ENERGY
These ingredients are great for increased energy, production of ATP in the body, and blood flow and circulation. They also provide fuel for the body and nutrients to your muscles.
Ingredients to look for:
- Ginseng
- Maca
- Avocado
- Spirulina/Chlorella/Seaweed
- Chia and Hemp Seed
- Coconut (meat, milk, water, or oil)